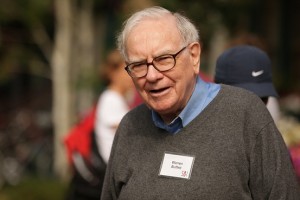 When Warren Buffett buys stock in a company, investors everywhere rush to follow. And so it goes today: The announcement this morning that Berkshire Hathaway would be buying back its own shares for the first time in Buffett's 40-year tenure as CEO, has pushed shares in the company up almost 6%.
But observers say Buffett's decision may not be such a clear buy signal. The move marks a significant departure from previous Buffett practices: The company has never used its cash for either share repurchases or dividends. In fact, Buffett has said that paying a dividend in particular would be a sign that he couldn't find good investment opportunities elsewhere.
Today's announcement to buy back shares is likely driven by the same logic, says Greggory Warren, a Morningstar analyst who covers the stock: Buffett is essentially saying there's little out there worth the investment risk at this point. That may be doubly discouraging for Main Street investors, who aren't typically privy to the specially structured investment deals Buffett is.
For Berkshire (BRK.A) shareholders, the news is more mixed. Buffett is signaling that he sees little opportunity for the company to grow through investments, which could mean lower expected returns. But that's likely already reflected in the stock's price, which prior to today's jump had fallen about 17% this year.
On the other hand, Buffett's move is "a vote of confidence," Warren says. It's not the first time that Buffett has said he thinks Berkshire's stock is cheap – in 2000, Buffett wrote in his annual letter that he had missed good opportunities to buy back shares at previous low points – but it's the first time he's backed that up with a plan to buy it.
As it is, the repurchases may not have a huge impact. The actual amount of repurchases could be somewhat limited, he says, given that the stock is already trading at nearly 7% above book value, and they've said they won't pay more than a 10% premium. "The broader issue for investors is what happens once Warren [Buffett] is no longer running the show," and the ability for the company to find good investing opportunities, Morningstar's Warren says.
Video:
Fuente: Berkshire to Buy Berkshire, Should you Follow
http://blogs.smartmoney.com